King Lagoon's Flying Swordfish Dance Band - The Golden Lagoon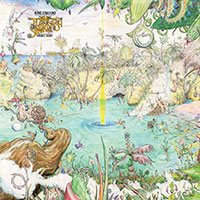 De achtkoppige
King Lagoon's Flying Swordfish Dance Band
is het geesteskind van de in Brighton in het Verenigd Koninkrijk gevestigde vocalist en multi-instrumentalist Rodrigo Kerr. In plaats van een doodgewone biografie van de band creŽerde King Lagoon's Flying Swordfish Dance Band op hun website een legende over King Lagoon, heerser over een tropisch paradijs in een parallelle dimensie: "The realm of King Lagoon hosts many diverse and exotic lands and small islands where the royal flotilla races and cruises to the sounds of the King's favourite bands. This dimension is similar to ours but many things can work quite differently and unexpectedly. A messenger from King Lagoon, a small golden bird with 5 wings, iridescent plumage and large expressive eyes, made contact with Rodrigo in 2010 to ask him to create a bandÖ. Whether it was to simply open up interaction or for a more dramatic reason, the exact motive remains unknown. Appearing at a window, having to be released from the inside of a drum or coming out of a tap, a computer screen or a saxophone, the bird appears to Rodrigo Ė alone or at band rehearsals - to drop off little parcels of exotic flavoured treats. Rodrigo and the other Flying Swordfish eat these tasty delights, and as they taste the other-dimensional flavours, more becomes known to them about the realm of King Lagoon, as well as inspiring music and ideas for the performance.".
De voertaal in het koninkrijk van King Lagoon blijkt in ieder geval Portugees, zoals mag blijken uit de 6 tracks op deze
The Golden Lagoon
(aangevuld met evenveel dromerige interludes die een indruk moeten geven van de tropische natuurpracht van King Lagoon's rijk), waarvoor de bandleden naar eigen goeddunken putten uit genres als samba, soukous, Congolese rumba, psychedelica en batucada, om, zoals ze het zelf samenvatten, ergens tussen de exotica van de Amerikaanse jazzpianist
Martin Denny
, de Peruviaanse sopraan en icoon uit de exotische muziek
Yma Sumac
en de vader van de hippiebeweging
Eden Ahbez
te eindigen op een onontdekt eiland ergens tussen Rio, Kinshasa en Brighton!
www.flyingswordfish.co.uk
|
www.kin-aesthetic-recordings.com